Gowanus Reggae And Ska Society
The Gowanus Reggae and Ska Society is a group of musician/explorers dedicated to bringing the sounds of classic Ska and reggae to the fine people of Brooklyn and beyond. The Society is housed in a large Ivy covered brownstone overlooking the bucolic pleasures of the Gowanus Canal. From their head quarters, the members of the Society have taken a solemn oath to spread the teachings of Jackie Mittoo, The Skatelites, Augustus Pablo, Roland Alfonso, Burning Spear, The Harry J. All Stars, Junior Byles, Studio One, Jimmy Cliff, Bob Marley and many others, to as many people as possible. The Gowanus Reggae and Ska Society is the National Geographic for people who want to get on down.
Become a friend of the Society now, and join us for serious Riddim and funky goings on.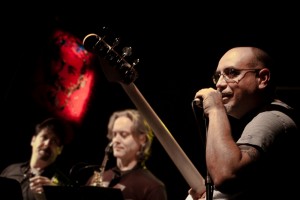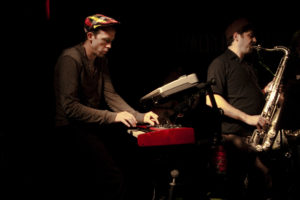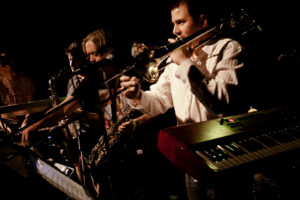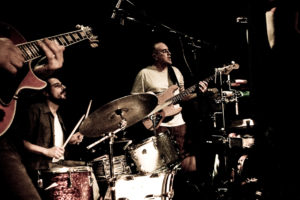 An instrumental love letter to the Bob Marley classic, this album is going to both confound and amaze. Not an homage or a tribute, and containing none of the political lyrics, without being a showy dub session, this in step crew shows their raison d'etre and puts it all in the grooves. A wild ride through the heart of the opus, this Brooklyn crew certainly knows their herbs and spices, so to speak. Certainly not a roll off project, anyone who loved the original is sure to fall in love with this refitting. Check it out.

– CHRIS SPECTOR, Midwest Review

I've long believed that jazz improvisations on top of a solid, cracking reggae rhythm section sounds great, but it's just not something I hear often enough…this album delivers everything I want out of a jazz-reggae fusion.  It's nice to see a new generation of musicians working out this concept; I hope they stick with it because they've got a good thing going here.

Bill Lupoletti, Global A Go Go

The band makes it quite apparent, from the opening track "Concrete Jungle," that the musical structure is of its own invention. The underlying reggae beat drives the music but the soloists bring their own sense of development to the table. It is fathomed in the arms of bop, free charging jazz harmonies, rock improvisation and swing, to make the whole a tantalizing sweep of giddy delight. One smoking record.

Jerry D'Souza, Allaboutjazz.com

The Gowanus Reggae and Ska Society (I'm only going to type this name once) finds the point of commonality between the genres and mines it for the music's absolute truth: the groove and uplifting spirit. Bob Marley's iconic Catch a Fire, reworked in a jazz frame of mind. It's a lot of fun, partly because even with the serious subject matter, the sway of reggae is insistently mirth-inducing. Mostly, their obvious love of the music itself will win you over. G.R.A.S.S On Fire isn't so much a tribute as a celebration.

Mark Saleski, Something Else Reviews